Life Lesson Processing Theory Tour

Life Lesson Processing - what makes it different?
Mainstream Therapy
Mainstream therapy will typically not follow the red thread of emotional pain back into previous lifetimes - an idea that a practitioner can only use if he perceives you as a spiritual being rather than a chunk of meat -, and will therefore fail to uncover quite a percentage of your key experiences. Bestselling pastlife regression therapist Brian Weiss is currently doing groundbreaking work in this area, but his cutting edge findings have not yet arrived in university training, while we are working with these concepts for over 30 years.
Clearing practitioners do have the tools to uncover these key experiences in past lives. You might be on your own though if you need to complete your studies for an unfinished life lesson, or have to find a coach for practical training, a diet specialist, or an energy healing practitioner for a medical problem. We have learned to recognize these additional needs and have the connections. You will even get "homework" to do to make your new understanding actually work in present time.
Life Lesson Processing (LLP)
In Life Lesson Processing, you will not only see your emotional pain dissipate, understand your past key experiences and extract from them all the learning that you didn't have a chance to do when they originally happened, you will also be coached to apply the newly finished lessons in practice, and therefore greatly upgrade your life and your chances for a glorious future. You will get homework to do to make your new understanding actually work in present time.
In other words: we not only address your thinking and feeling, but also your doing; we not only have you trace down any errors in the blueprint of your life, we also coach you through the steps of correcting these errors. In yet other words: Where other practitioners are content to free you from pain and help you develop your envisioning and planning capabilities, we go the extra mile to help you develop your implementation capabilities.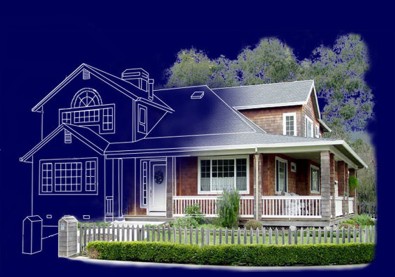 Mainstream therapy and Clearing typically address the mind - where life's
blueprints are managed. In Life Lesson Processing, you also get the coaching
that will help you to implement your new insights into your present time life.
It goes the extra step from polishing the blueprint to building the house!
Cultural Restrictions
One of the most important restrictive factors is addressed by very few other practitioners: the multitude of cultural influences that want to make you their puppet.
If you really intend to write your own movie's screenplay rather than playing the pre-written role that a society or a church wants you to parrot, then Life Lesson Processing is for you - it will allow you to find out who you really are and what you really want to do with your life! Just send us a mail to info@life-lessons.eu or give us a call under +43-7956-69441 - we will be happy to make an appointment!
A Complete Job
We invite you to browse through our Theory Tour in order to see the philosophical framework of Life Lesson Processing (LLP). But if you can't afford the time, have at least a quick look to the explanation here. It takes only a moment to read, and explains in a nutshell how Life Lesson Processing works to integrate your past experiences with the time stream of living life. The system we have worked out combines processing, study assignments and coaching in such a way that it really does a complete job. Thank you very much for reading our pages - see you in session!